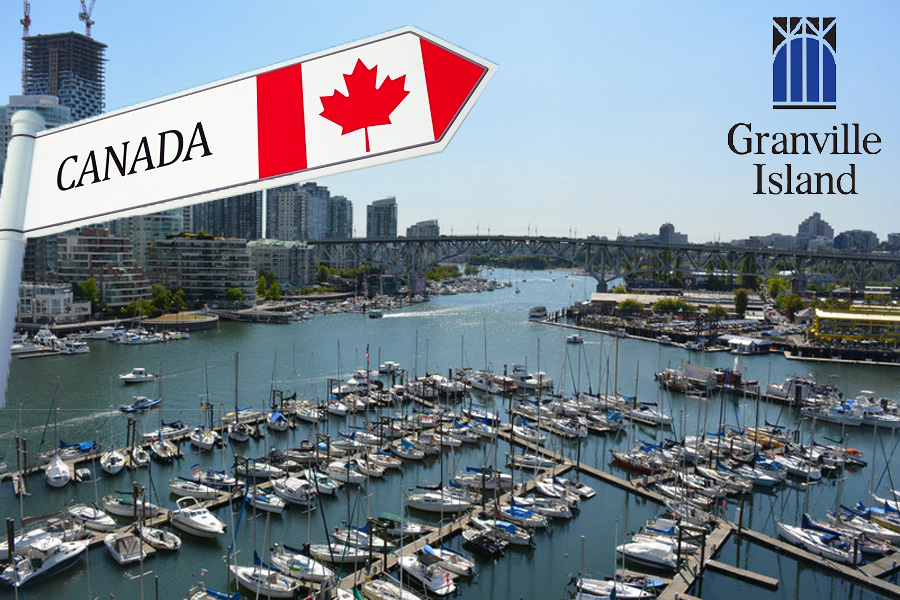 If you are planning to travel to Vancouver but have limited time, then you don't have to worry. You can experience Vancouver in just a few days without any worries. With the help of Canada eTA, you can now get your Canada Visa by the click of your fingers. With that in mind, I will now give you the places you can visit in Vancouver to spend your five days.
Day 1: Downtown and Granville Island
Starting your itinerary with the first glance of the city and orient yourself with the sceneries from the observation deck at the Vancouver Lookout located downtown. Just a tip, you can save your ticket to return later, and you can get a glance of the nighttime views.
Once done, you can catch bus 50 on Granville Street to Granville Island. Check out the Granville Island Public Market and browse the stalls. You can also stop for a morning snack in the market before checking out the galleries and shops in the Net Loft at Railspur Alley and the rest of the island. Please don't forget to visit the Eagle Spirit Gallery and admire their museum-quality aboriginal art.
For lunch, you can always return to the public market, or if you want to sit down for a more relaxed meal, highlighting Canadian dish, you can try Edible Canada Bistro. Start your afternoon on an active note by renting a kayak or a stand-up paddleboard at Ecomarine Paddlesports Centre. After an hour of paddling, you can refresh yourself with sake sampling at Artisan Sake Maker or a craft cocktail at Liberty Distilling before going back downtown.
If you are not that tired yet, you can stroll along the Seawall in Stanley Park to admire the totem poles at Brockton Point and Siwash Rock. You can rest at English Bay Beach, one of the best spots in Vancouver to watch the sunset over the ocean, an excellent way to end your day.
Day 2: UBC, Gastown, and Chinatown
From Granville Street, take Bus 4 or 14 west to the University of British Columbia and the Museum of Anthropology, which houses the collections of First Nations Art, including an impressive gallery of totem-poles. After the museum, you can take a walk and enjoy the serenity at Nitobe Japanese Garden nearby.
Once finished at the campus, you can take Bus 4 back toward Kitsilano for lunch on West 4th Avenue and enjoy Thai food at Maenam or French bistro Au Comptoir. Take Bus 4 or 7 and head to Gastown. Walk along Water Street and watch the Gastown Steam Clock toot its whistle.
Continue into Chinatown for a late afternoon tour of the Dr. Sun Yet-Sen Classical Chinese Garden, the only authentic Ming Dynasty outside of China. Spend dinner at Chinatown and try the unusual combination of Japanese and Italian elements at Kissa Tanto or dine at the modern Canadian plates at Juniper Kitchen and Bar.
Day 3: The North Shore
This time, you will be exploring the mountains and rainforests on Vancouver's North Shore. You can take advantage of the free shuttle from Canada Place to Grouse Mountain. If you are ready for a challenge, you can walk up the Grouse Grind, also known as "Mother Nature's Stairmaster," or you can use the Skyride, North America's most extensive tram system.
At the top, you can enjoy the lumberjack show, explore the wildlife refuge, and go for a hike. The scenes are truly spectacular on a clear day. Come down at the Grouse Entrance, take bus 236 to the Capilano Suspension Bridge, 450-foot span swings over a high canyon overhead the Capilano River. If you dare to be brave, then you can follow the Cliffwalk, and walk the glass platform.
Day 4: Richmond
Ride the Canada Line and spend a day in Vancouver's "New Chinatown." Enjoy delicious dim sum in the Golden Village. At the Golden Paramount Seafood Restaurant, you can choose from a mix of traditional and modern Hong Kong style plates.
After filling your stomachs, take bus 403 southbound to the International Buddhist Temple, one of the largest Chinese Buddhist Temple in North America, where visitors are welcome to tour the gardens and the quiet temple complex.
Day 5: Cambie Corridor and East Vancouver
From downtown, catch bus 17 going to VanDusen Botanical Garden and spend your morning walking among the blossoms. If you are ready to eat, you can take your lunch at the modern aboriginal bistro, Salmon n' Bannock.
Head east on Broadway to the Cambie Corridor to check the neighborhood's shops. Once done with your shopping, you can head to 33 Acres Brewing and Brassneck Brewery for a draft of beer. If you want a more serious exploration, you can check Parallel 49 Brewing Company that offers a large tasting room, a favorite in the neighborhood gathering spot and an excellent way to end your vacation.
Conclusion
Traveling abroad can be tedious with all the process that you need to do. Thanks to eTA, obtaining a visa is more comfortable, and Canada should be one of your go-to countries. There is a lot to see in Canada, especially in Vancouver, and having a short span of time to spend can still be manageable with the help of eTA Canada, and can give you all the time to see the best spots. You can check www.canada-eta.ca and start your most deserved adventure!